All parents around the world are often struggling with choosing the best present for their children, one that will be in some way useful in their development, but one that children will still enjoy.
We all know that children's interests change more often than fashion trends. I myself, when I was little, had a period when I was collecting stamps, coins, and letter paper, was a part of scouts, and a dancing crew and all of that within one year only. Therefore, we realise that trying to interest them in an expensive hobby may not be the best idea as we are running into the risk of first enthusiasm followed by complete abandonment.
Astronomy may be a very pricey and time consuming hobby; fortunately, telescope manufacturers thought about the telescopes perfect for even the little novice astronomers. Of course, they will not have the observing quality of bigger and more massive telescopes; however, they may cause a spark of interest, resulting in the long and lasting love and fascination with the Universe and secrets they may keep.
Celestron FirstScope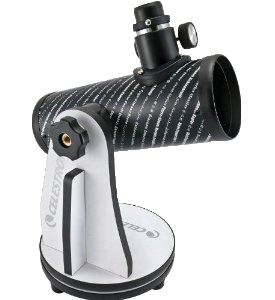 Celestron FirstScope is an official product of the International Year of Astronomy 2009. Its design is great for children's education as its tube commemorates the history's greatest astronomers and scientists. It is a small, very portable, and very easy to use telescope, which is perfect for even the most impatient of the young ones as it does not require any assembly.
With its 76 mm objective diameter and additional eyepieces, your kids can easily start discovering the joys of astronomy. They can reach as far as Saturn, Jupiter, Andromeda Galaxy and Orion Nebula. The good quality of its mount allows all the celestial objects to remain in sight easily.
This telescope is suitable already for children ages 6 to 9; however, it is also being used by the older and more experience astronomers.
Bynostar LE 70-700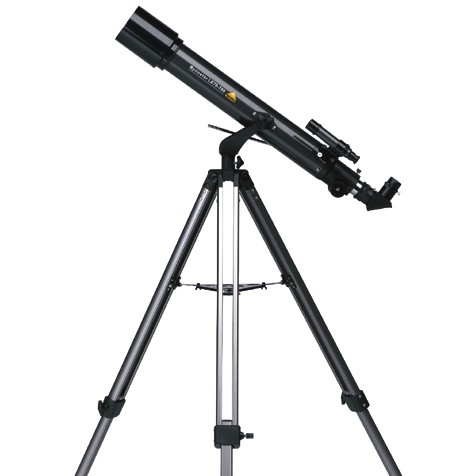 A bit more expensive that the FirstScope, this Bynostar telescope is a refractor; therefore, it looks more like a 'stereotypical' telescope and requires very little maintenance. Unlike other more affordable telescopes, this one comes fully equipped with 4 different eyepieces, Barlow lens, and the Moon filter. Hence, no need for initial additional purchases.
Even though, it is a lightweight telescope, it takes more space as well as its set up is more time consuming and requires more skill. Due to the latter, the Bynostar LE 70-700 would be a wise choice for children above the age of 9.
Being a multi-purpose scope, it can be used whenever your little astronomer feels inspired to unravel the secrets of the world and beyond, no matter what time of day or night it is.
Meade/Bresser Junior ETX-70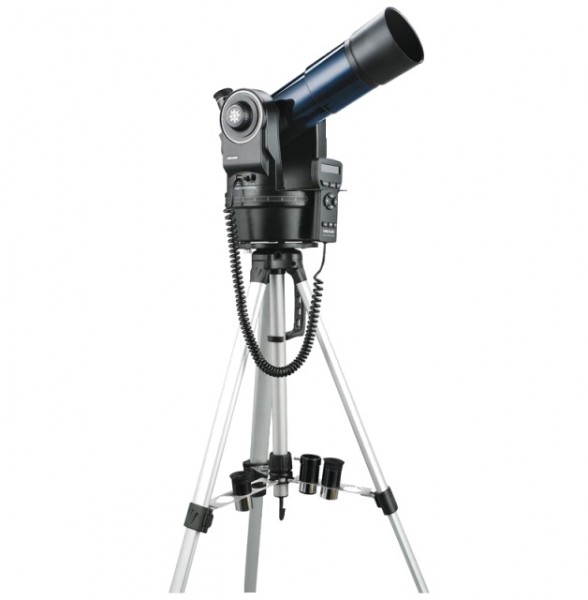 A product of cooperation between two parent companies: Meade and Bresser. This telescope is a top shelf choice for children.
It is provided with a backpack to make the portability even easier, and to allow taking it along for countless adventures. Additionally, to ease the search for desired stars and planets, the producers included the AutoStar module which is a full GoTo system. Once the telescope is set up correctly, it finds automatically one of the 1,500 pre-programmed celestial objects.
However, in order to set it up correctly, it requires a basic knowledge of astronomy (latitude, North orientation and some bright stars); therefore, it will be used most comfortably by the children in their early teens.
The three telescopes described above represent the main categories and features of telescopes suitable for children: reflectors, refractors, GoTo feature. Once you decide on purchasing a telescope, the factor that should be considered is not only the price but also the extent to which the scope is suitable for your little astronomer. Issues such as: age, patience of your child, the level of astronomy knowledge, willingness to learn, as well as the time you have to assist them with the set up and observations should be carefully considered when deciding on what telescope to buy.